UGEE 2023 Dates out by IIIT Hyderabad, Massive Changes this year!
UGEE 2023 Application date starts from  : 6th Feb 2023
Last date to apply                                         : 31 March 2023
Release of Admit Card                                 :will be released soon To Download click here
Entrance Test for UGEE 2023                     : 6th May 2023
UGEE 23 will be held on 6th May 2023 from 2:00 to 5:00 PM so, Don't Wait to start your Preparation of UGEE from IIITprep and Get lots of free stuff.
Interview                                                        : 13-15th June [Online]
Application Fee: INR 2500/- (Non-refundable)
Note: You have a good time in your hand so, Start preparing for UGEE with IIITprep because Less awareness means Less competition means more chances of selection.
Important Changes in UGEE 2023
Applicants will be ranked on REAP score and SUPR will be used for filtering. Which means REAP has more Weitage indirectly in UGEE
No Criteria on 12th Percentage, you only need passing in it.
Exam
Applicants in this mode need to appear for a computer-based undergraduate entrance examination (UGEE) conducted by IIIT Hyderabad. This exam will be for three hours and has two sections:
a) SUPR – Subject Proficiency test for 60 minutes.
b) REAP – Research Aptitude test for 120 minutes.
Note: Applicants will be ranked on REAP score and SUPR will be used for filtering.
Date of the examination: 6th May 2023, 2:00 PM to 5:00 PM
UGEE Cutoffs 2022, 2021, 2020, 2019 & 2018
| | |
| --- | --- |
| Year | Cutoff Marks |
| UGEE 2022 | 98/150 |
| UGEE 2021 | 85/150 |
| UGEE 2020 | 80/150 |
| UGEE 2019 | 85/150 |
| UGEE 2018 | 104/150 |
Why IIIT Hyderabad UGEE Exam?
Free Delivery (2023 Edition)
Complete UGEE Package with Latest Edition of SUPR Guide, REAP Guide & PYQ Book with Free Interview Kit along with CD provided in Digital form to all students
🚩🚩 Enjoy UGEE - Plan B Offer for Limited Time 🚩🚩
🎁IIITprep is the Official Educational Partner of Annual Fest (Felicity) of IIIT Hyderabad🎁
🪖🎁 Crash Course 2023 Launched 🎁🪖
❤️Use Code: "PlanB" for Discount❤️
We have partnered with BlueDart Air so, you will get Fastest Delivery
It will be delivered after 4-5 Days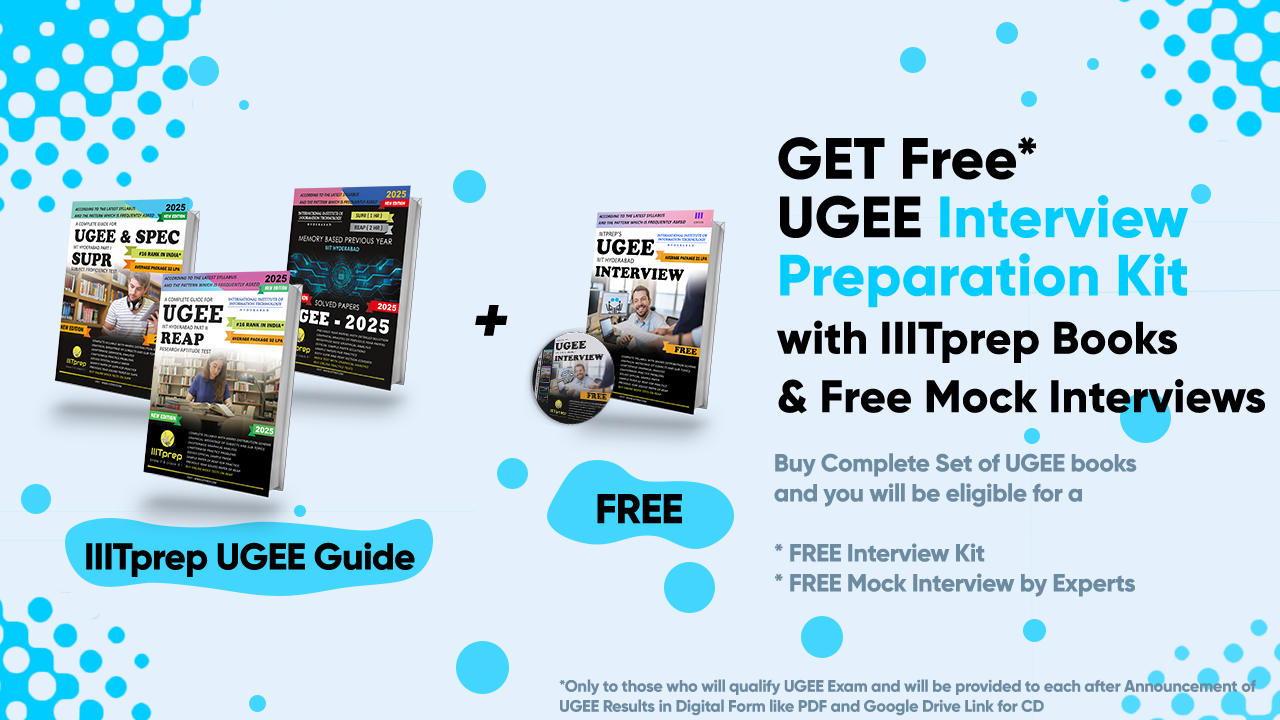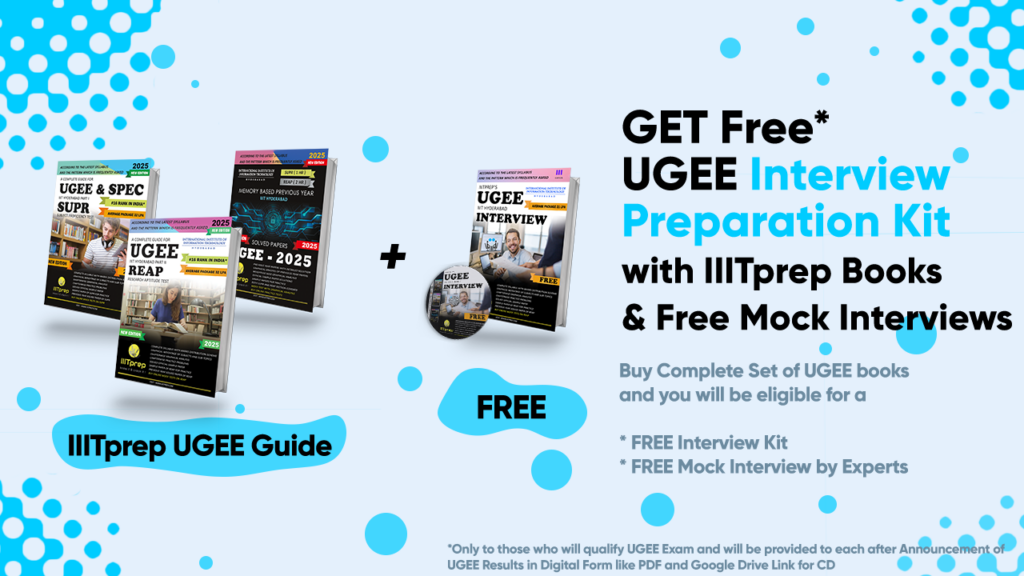 Thanks to IIITprep team for providing guidance to many students like me in achieving their dream college
IIITprep is a great resource for UGEE preparation. Their mock tests are the most reliable mock tests available on the internet in all terms like difficulty level, reach of questions etc and I'd like to make a full contribution by sharing my entire Interview experience Besides, IIITprep has been a great help for me throughout the UGEE journey.
Thanks to the wonderful team of IIITPrep for the wonderful books and super helping resources which they provided us, even in this pandemic time. These resources, including mock tests, superb books, and ever lasting support, helped me a lot in clearing this crucial exam.