IIITH Undergraduate Entrance Examination (UGEE) 2024 will be conducted by the International Institute of Information Technology (IIIT ) Hyderabad
followed by an interview
🚩🚩 Enjoy UGEE - Plan B Offer for Limited Time 🚩🚩
🎁IIITprep is the Official Educational Partner of Annual Fest (Felicity) of IIIT Hyderabad🎁
🪖🎁 Crash Course 2023 Launched 🎁🪖
❤️Use Code: "PlanB" for Discount❤️
Limited Stock of 📚 2024 Edition will be Available soon
❤️Use Code: "PlanB" for Discount❤️
We have partnered with BlueDart Air so, you will get Fastest Delivery
It will be delivered after 4-5 Days
✔️ All Recorded Lecture with Live Discussion Sessions (Complete REAP Syllabus with SUPR Imp)
✔️ Get 8 UGEE Mock Tests (India's Most relevant Test Series designed by IIITprep Experts)
✔️ Get All Lecture Notes Available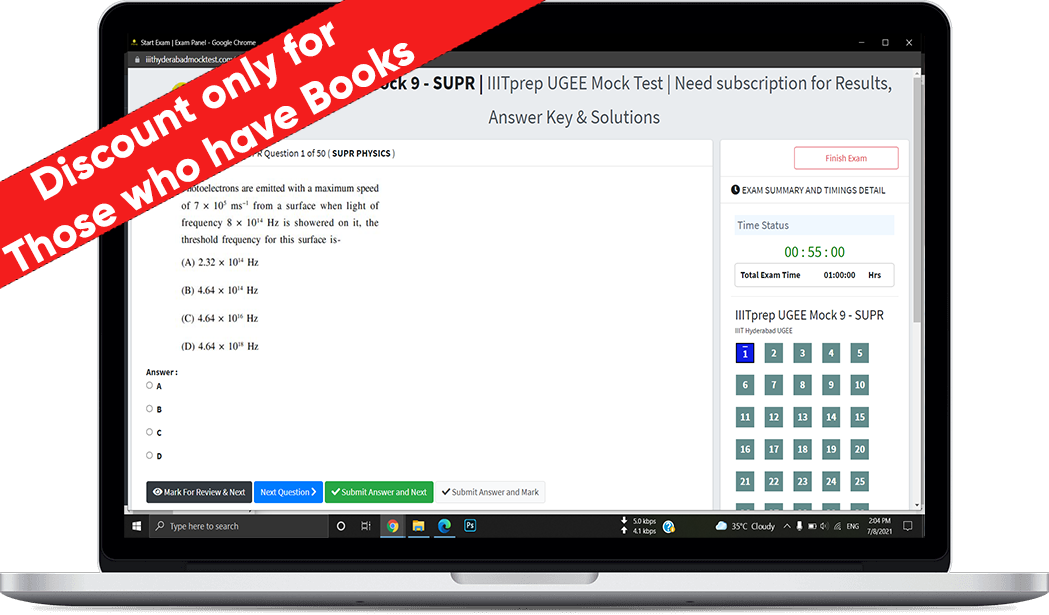 Discount only for those who have
purchased IIITprep Book
✔️ Attempt at any time as per convenience
✔️ Full Length Same as UGEE Paper Pattern
✔️ Get Detailed Solutions for Each Mock test
✔️ Get Topic Wise Analysis of Each Mock
✔️ Get Same UI Experience as of Final Exam
✔️ Get Calculator like Final Exam
✔️ Designed by IIITprep UGEE Experts
✔️ IIITprep Expertise in UGEE Exam
✔️ Proven Results in AIR 4, 19, 20 ....
✔️ Get All India UGEE Ranking
✔️ Back to Back SUPR & REAP Paper like Final UGEE Exam
IIITH Undergraduate Entrance Examination (UGEE) 2023 will be conducted by the International Institute of Information Technology (IIIT ) Hyderabad
followed by an interview. IIIT UGEE application form has been released on 6th Feb 2023 & are open till 31 March 2023 and the last date to submit the form is 31 March 2023. IIIT UGEE 2023 Admit Card were released soon download and the UGEE 2023 exam will be on 6th May 2023.
IIIT offers admission to 5 dual degree courses like Electronics and Communication Engineering (ECD), Computer Science and Engineering (CSD),
Computer Science (CSD), Computational Linguistics (CLD), Computational Natural Sciences (CND), Computing and Human Sciences (CHD). Apart from
UGEE, IIIT Hyderabad also offers admission to B. Tech Programs through channels like JEE Main, NK/ NT SE or KVPY, Olympiad, Direct Admissions for
Students Abroad (DASA) and Special Channel of Admission (SPEC). Candidates who had qualified for the Entrance Examination (UGEE) must appear for an interview based on which they will be offered seats in the institute.
 The UGEE mode is for admission to dual degree programmes. Graduates of the dual degree programmes earn two degrees: B. Tech and MS. The Master's degree requires the completion of a research thesis. The programme prepares students for research-oriented jobs and higher studies. The duration of the programme is 5-years.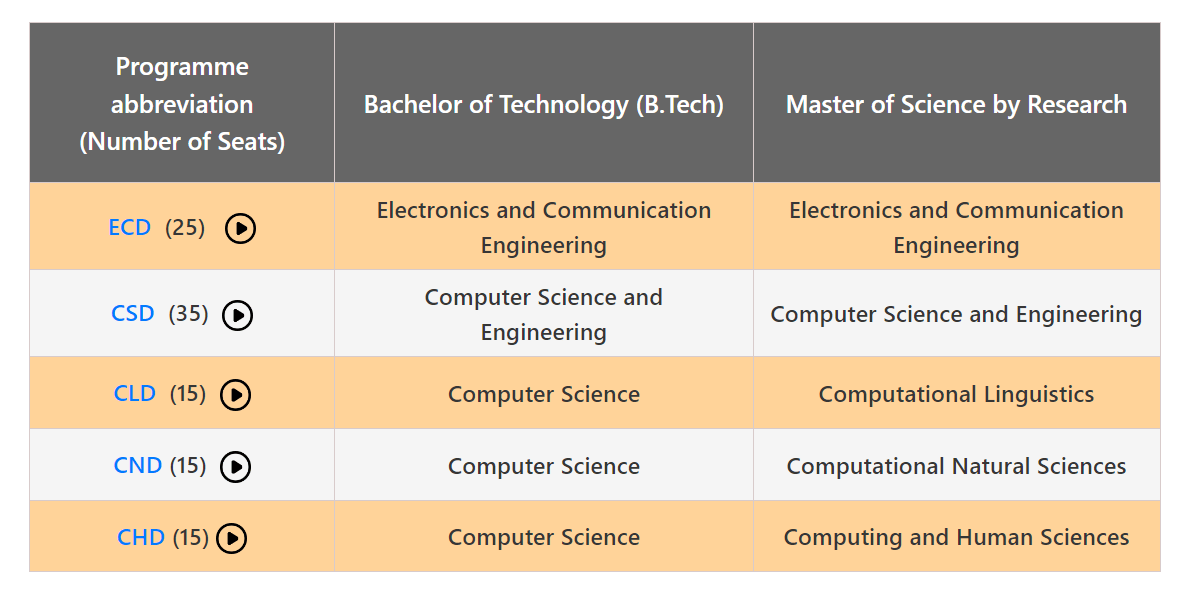 IIIT UGEE Eligibility Criteria: IIIT Hyderabad offers admission to 5 dual degree courses (B Tech + Master of Science by Research) in the institute. Candidates have to qualify for the entrance exam to appear in the seat allotment process. To appear in IIITH UGEE 2023 there is no criteria for Boards Percentage. Shortlisted candidates have to accept their seats and pay the fees within the given timeline. Candidates who will fulfill the eligibility criteria of IIITH UGEE 2022 have to produce their documents and report to the institute. 
Official Contact Details:
UG Admissions IIIT Hyderabad, Gachibowli Hyderabad – 500 032
Phone: +91 (40) 6653 1250 +91 (40) 6653 1337 Fax : +91 (40) 6653 1413
Email  : ugadmissions@iiit.ac.in
Official Site : https://ugadmissions.iiit.ac.in/
UGEE 2024 Application date starts from  : Feb 2024
Last date to apply                                         : March 2024
Release of Admit Card                                 : will be released soon To Download click here
Entrance Test for UGEE 2024                     : Not Announced Yet
UGEE 24 will be held on ________(Not released yet) from 2:00 to 5:00 PM so, Don't Wait to start your Preparation of UGEE from IIITprep and Get lots of free stuff.
Interview                                                        : Probably June 2024 [Online]
Application Fee: INR 2500/- (Non-refundable)
Note: You have a good time in your hand so, Start preparing for UGEE with IIITprep because Less awareness means Less competition means more chances of selection.
Applicants in this mode need to appear for a computer-based undergraduate entrance examination (UGEE) conducted by IIIT Hyderabad. This exam has two sections:
a) SUPR – Subject Proficiency test for 60 minutes.
b) REAP – Research Aptitude test for 120 minutes.
Date of the examination: Will be released soon (2:00 PM to 5:00 PM)
Applicants will be ranked on REAP score and SUPR will be used for filtering.
Candidates shortlisted from this exam will have to clear an interview to gain admission. The decision on the final offer of admission is solely based on the interview performance
Date of interviews: will be released soon [Online]
UGEE Cutoffs 2023, 22, 2021, 2020, 2019 & 2018
Year

Cutoff Marks

UGEE 2023

For Males: SUPR – 22 And REAP – 68

For Females: SUPR – 22 And REAP – 63

UGEE 2022

98/150

UGEE 2021

85/150

UGEE 2020

80/150

UGEE 2019

85/150

UGEE 2018

104/150
IIITH UGEE 2024 - Highlights
IIITH UGEE 2024 – Highlights: The UGEE will have two parts: section 1 SUPR (Subject Proficiency Test) and section 2 REAP (Research Aptitude Test) All the Questions of IIITH UGEE 2024 will be objective in nature. The examination will be conducted in computer-based mode at various centers across the city
SUPR Subject Proficiency Test: The syllabus is CBSE X1 and XII standard Physics/Mathematics/Chemistry
REAP Research aptitude test: The syllabus is also CBSE X1 and XII standard Physics/Mathematics/Chemistry.
Get REAP Complete Guide Click Here
REAP section – The test will be on critical and creative thinking. Get REAP Complete Guide Click Here
IIITH UGEE Sample papers for Section 1 and for Section 2 are also available.
Click Here to Download Sample Paper.
Click Here for the Online UGEE Mock Test.
IIITH UGEE application form 2023 will be released soon by IIIT Hyderabad in online mode. The authority will release IIITH UGEE 2024 application form for other streams such as DASA, UGEE/SPEC, and JEE Main for admission to various engineering and architecture courses. Along with filling IIIT Hyderabad, 2024 UGEE application form candidates have to pay the requisite fee, which is Rs.2,000/-. Before applying for admission to B. Tech programs offered by the institute, candidates have to fulfill the eligibility criteria. Candidates are required to provide all valid and appropriate information in the application form of IIIT UGEE 2024
Steps to fill IIITH UGEE 2023 Application Form
How to fill IIITH UGEE 2024 Application Form?
Step 1 – Registration:
In the first step, candidates have to register online with basic details such as name, mobile number, email ID, etc. In order to register, candidates have
to check their eligibility criteria and then register by clicking on the 'New User' tab. 
Undergraduate Entrance Examination (UGEE)
Step 2 – Filling Online Application Form:
Candidates who have registered successfully will be required to enter all information in the online application form of IIITH UGEE 2024. The details to be entered in IIITH UGEE 2024 application form will be different for different channels of admission (UGEE/DASA/KVPY/NT SE/JEE Main). Candidates have to provide all the information such as personal, education, and communication details while filling the application form.
Step 3 – Payment of Application Fees:
Candidates have to pay the application fee, which is Rs.2500/- (non-refundable). The fee can be paid through debit card/ credit card/ net banking.
Step 4 – Submission of Application Form
After payment of application fees candidates have to submit the application form. Candidates must also note that after submitting the final application
form candidates have to take a printout of the same and keep it safely for future references.
IIIT Hyderabad UGEE Results
IIITH UGEE result 2024 will be declared after 2 weeks from the date of the exam, Candidates can check their results on the official website in online mode. To check the IIITH UGEE 2024 results candidates have to enter their username and password on the login window. Qualified candidates in UGEE 2024 will be called for an interview as per their marks obtained in the entrance test. The authority will prepare a rank list on the basis of combined scores of the written test and interview. To get complete details about IIIT UGEE 2024 Click Here.
1. CSD: B Tech and Master of Science in Computer Science and Engineering by Research (5 years Dual Degree)
This is a five-year integrated course offered to meritorious undergraduate students, at the end of the third year. Students enroll for extra courses at the end of their third year and complete the first year equivalent of the MS by Research program, while in the final year of the undergraduate program. The Dual Degree option enables students to acquire two degrees – B Tech (Hons) and MS by Research by successfully defending their MS thesis. The normal duration for a dual degree program is five years. Click here for the semester-wise curriculum.
2. ECD: B Tech and Master of Science in Electronics and Communication Engineering by Research (5 years Dual Degree)
This is a five-year integrated course offered to meritorious undergraduate students, at the end of the third year. Students enroll for extra courses at the end of their third year and complete the first year equivalent of the MS by Research program, while in the final year of the undergraduate program. The Dual Degree option enables students to acquire two degrees – B Tech (Hons) and MS by Research by successfully defending their MS thesis. The normal duration for a dual degree program is five years. Click here for the semester-wise curriculum.
3. CND: B.Tech in Computer Science and Master of Science in Computational Natural Sciences by Research (5 years Dual Degree)
 1. About the Program: This program is about science – but it is not limited to the way science is traditionally practiced. This is also about computer science and IT – but it is not about creating IT professionals. It is about the science that is emerging in the interface of the information revolution and the challenges posed by some of the grave issues and problems in today's world. From newer ways of acquisition and management of multivariate data on complex natural systems to newer ways of deriving knowledge from the data using novel methods of data visualization and computational simulation, the world today needs a different breed of enabled scientists who are ready to navigate this interface. This program is for those who have the inner desire to take on these grand scientific challenges.
2. Brief Objectives of the Program: Training young minds for high-quality education both in computer science and in emerging areas in computational natural sciences and eventually to 'Computational Thinking' empowered research in natural sciences;
Providing state of the art skills pertaining to the application of computers and computational sciences;
Enabling young students to carry out research activities in several new and emerging multidisciplinary areas in sciences across the boundaries of the traditional scientific disciplines, e.g., the interface of biology and nanomaterials, fluid dynamics, material science, networks (biological, social, epidemiology, etc.,), statistical mechanics, quantum mechanics/chemistry, structure-function relationships of biological molecules, drug design, etc.; Special courses are designed to offer a multidisciplinary view in this broad research area. Students receive basic training in all disciplines, and choose a specialization within one of these disciplines;
Providing an environment with coming together of computer and computational scientists with domain specialists, both theoretical as well as experimental
3. Special Eligibility Criteria:
Students with KVPY, NTS, or equivalent (e.g., JBSTS), olympiad awards are admitted without JEE requirement.
All other students coming via JEE must have an orientation towards scientific research. A high degree of interest in science is mandatory and preference will be given to winners of state or national level science project competitions, and those selected for Discovery science programs 
4. Details of the program: # courses in CS: Nearly 18 courses with 72 credits;
# courses in CNS: Nearly 18 courses with 73 credits;
A few of the courses involve laboratory training;
Additionally, there are a few courses in engineering and humanities;
Mandatory projects begin usually from the sixth or seventh semester; students are encouraged to take up research projects at even earlier stages.
A few novel features of the curriculum are as follows:
Strong research focus: students spend a significant period of the program on their own project in a research environment of internationally renowned quality; course modules are strongly related to ongoing research and are taught by research professionals;
Complementary curricula from computer science and natural science domains;
Integrated program: The program has been designed to ensure that core subjects are offered to all students irrespective of their final specialization area. Specialized depth courses are designed to enable students to get into the research mode in areas depending on their interests and strengths. 
Links to research pages/research project pages   http:/iiit.ac.in/research
for CNS: ccnsb.iiit.ac.in
for areas in CS, ECE, and humanities: Look for individual centers listed under 'research' on IIIT home page
Click here for the semester-wise curriculum.
5. Future Prospects:
India is undergoing a rapid expansion in both academic and industrial sectors in computational natural sciences. While training in CNS launches a student into a global scientific manpower market, our intention is to reinforce scientific capabilities within the country. Most of the graduating students are expected to be absorbed in several National universities, research labs, or industrial R & D divisions. For the rest, cross-disciplinary capabilities are assumed to be high, as witnessed from the large-scale mobility of science graduates towards the corporate sector and another arena in several advanced countries.
4. CLD: B.Tech in Computer Science and Master of Science in Computational Linguistics by Research (5 years Dual Degree)
Computational Linguistics (CL) deals with understanding and developing computational theories of human language. Such theories allow us to understand the structure of language and build computer software that can process language. For example, if a query in English, Hindi, or Telugu can be processed (that is, analyzed and understood) by the machine, then it can try to find an answer from a given database or from a set of documents. A search engine of the future is likely to use such technology.
There is a great emphasis today on machine learning where the machine learns from real-life language data. Consequently, the field is close to both Linguistics as well as Artificial Intelligence.
If you have a fascination for the scientific study of natural language and combining it with computer science., this area is for you. The dual-degree program will give you a strong grounding in both Computer Science and Linguistics and will prepare you for academic research as well as industry research jobs in Computational Linguistics.
Click here for the semester-wise curriculum.
5. CHD: B.Tech in Computer Science and Master of Science in Computing & Human Sciences by Research (5 years Dual Degree)
About the Programme: Computers and their various incarnations are transforming our world in ways that are unprecedented, and even unintended. Comparable historical parallels are, perhaps, the emergence of the printing press and, some centuries later, the spread of hydrocarbon fuels like coal and oil; but perhaps computers are changing the world at a much faster rate. The academic competencies required to comprehend such fundamental transformations will not be found either within standard science and technology departments or within those of the humanities and social sciences. Both of these focus on one side of this complex phenomenon.
Academic advances in the human sciences in the 21st century will depend on an ability to work with computers. Similarly, computer science will be impactful when it understands the society it works in. This program is for intellectual pioneers who are keen to take on this inter-disciplinary challenge of understanding computers and society in a holistic manner.
Students will be expected to engage in research that pushes their knowledge in either or both directions within the computer and human sciences. Students will participate in innovative and pioneering research projects where computer science tools and methods are used to ask questions in the social sciences; or which use social science methods to understand computer science. They will graduate with an ability to identify new research areas, use radically new academic methods, and ask questions that cannot be accommodated within the currently available academic formats.
Click here for the semester-wise curriculum.
IIITH UGEE 2024 counselling will be conducted by IIIT Hyderabad in online mode. IIITH UGEE counselling will be done as per the merit and preferences of
the candidates in multiple rounds. Candidates shortlisted in IIITH UGEE 2024 will have to appear in the interview round before seat allocation process. In
each round of IIITH UGEE 2024 counselling, candidates are allocated a seat in a programme as per rank and preference. Confirmation of allotted seat
has to be done by paying the required fee. The candidates can participate in further rounds of IIIT Hyderabad UGEE 2024 counselling if they are not
satisfied with the seat allotted to them. The counselling for all other channels – JEE Main, NK/ NT SE or KVPY, Olympiad, DASA and Special Channel of
Admission (SPEC)will be held separately.
IIITH UGEE 2024 Counselling - Highlights
The admission process of IIITH UGEE 2024 will have multiple rounds
Only qualified candidates in IIIT Hyderabad Undergraduate Entrance Exam will be eligible for the IIITH UGEE seat allotment
In each round of IIITH UGEE counselling 2024, an applicant has a deadline to accept by paying the requisite fees or declining the allotted seat
An applicant can lock the seat if satisfied with the allotted programme
All the candidates selected for admission will have to cross verify their original documents. Failure to verify their documents may lead to the cancellation
of admission
If candidates did not accept and pay for an allotted seat by the deadline, the seat will be considered cancelled by the candidate.
If seats are not allotted to applicants in any round of IIITH UGEE counselling, the applicant can continue to the next round. However, an applicant must
give consent to participate in the next round.
Candidates have to pay a one-time payment (Rs 10,000 for seat allocation and Rs 10,000 as an advance towards tuition fee) is required for the continuation
to the second and further rounds.
IIIT Hyderabad Admission FAQs
Q1: I have received admission to IITs. Why should I consider joining IIIT Hyderabad?
IIIT Hyderabad UG program is unique in the country.
It provides research opportunities, even to a UG student, not available anywhere else in the country. Many UG students are able to publish papers at international conferences. Some even visit abroad for working with partner research groups while still a UG students.
It has a modern and flexible curriculum that allows a student to tailor it to his/her requirements.
Infrastructure is extremely good in academics as well as in hostels and student life.
So, if you want to achieve your dreams, of creating new technologies or doing cutting-edge research, come to IIIT Hyderabad.
Q2: Why should I join the 5-year dual degree program? In the 4-year program, I finish one year early.
The dual degree program prepares you for research and jobs in your area of interest are likely to come up in large numbers as more R&D companies start their operations. It also prepares you for higher studies, if you wish to pursue Ph.D. in India or abroad.
The program takes one extra year, but then you get two degrees B.Tech. and Masters. Normally, M.Tech. requires two years beyond B.Tech. The fifth-year is expected to be fully supported if your academic performance is satisfactory and the availability of funded projects in your area of research. You are also likely to get financial support in the form of teaching assistantships in the earlier years when you assist in teaching or work in funded research projects. 
Q3: What are some of the areas in which UG students can do research?
Robotics, wireless communication, speech processing, machine translation, search engines, computer vision, pattern recognition, databases, data mining, VLSI, embedded systems, bio-informatics. More information here  
Q4: Is branch change allowed?
Branch change is allowed between CSE and ECE after 1st year, subject to the condition that the total numbers in each branch are within 10% (plus or minus) of sanctioned strength (i.e. in the range of 90 – 110% of the sanctioned strength).
Program change from 4-year to a dual degree program is permitted typically at the end of the 3rd year. Change from dual degree to 4-year program is not permitted.
Q5: IIIT-H fee is higher than the fee at IITs or NITs. Why?
IIIT offers high-quality infrastructure. It has modern well-kept living facilities. It also has one of the highest bandwidth availability per student. It has a highly qualified research-oriented faculty with research centers. All this costs money. Most importantly IIIT does not run on annual Government grants. This allows complete autonomy and high academic standards but does result in a slightly higher fee. However, financial assistance is available.
Q6: I am not able to pay the fee. Is any financial assistance available?
IIIT-H special financial assistance scheme (ISFAS): Financial support is provided on a need basis, to students through this scheme on a payback (after graduation) basis. The funds for this support are contributed by the Institute as well as alumni who, despite being young, have contributed generously. The Institute has earmarked an enhanced contribution to this pool for this year.
Q7: How are the on-campus placement opportunities?
A detailed report on placements can be found here.
Q8: Is there a hostel facility on campus? What about the other facilities?
Yes, IIIT-H is a residential Institute and it is compulsory for all students to stay on-campus. Separate hostels for boys and girls are available on-campus with basic facilities. Hostels are completely networked with an Internet facility. UG1 students are not provided a network facility in their hostel rooms. However, they have access to the internet in common labs during daytime.
You can read about the institute's infrastructure here.
Q9: How is Hyderabad's climate?
Hyderabad has a pleasant salubrious climate. It is dry, so even when it is hot under the sun, it is pleasant under the shade. It has two hot months (April and May) and even in those months there is no loo (hot wind), and evenings become pleasant. As soon as the monsoons arrive (approximately 7th June) Hyderabad becomes like an "air-conditioned" city and not hot and muggy like other cities. Winters are mild with the temperature rarely going below 12 degrees Centigrade at night. (Hyderabad is at an altitude of 500 m so its climate is different from the rest of the Andhra climate.)
Q10: What kind of city is Hyderabad? What does it have to offer?
Hyderabad is a large metropolis (the 5th largest city of India) with old-world charm. It is a favored destination of the software industry in India and a large cosmopolitan city with interesting eating places, shopping areas, theatres, visibly present film industries, etc. However, it retains a personal touch of a small town. People are helpful and laid back, and surprisingly autorickshaw drivers do not "take you for a ride" unnecessarily. Culturally it is active with heritage walks, monuments that invite you, painting exhibitions, Hindustani and Carnatic music.
Q11: Where is IIIT-H located in Hyderabad? What facilities are available in its vicinity?
IIIT is located in Gachibowli with a largely self-contained campus. Most of your needs will be satisfied within the campus: hostel, mess, canteen, stationery shop, weekly film shows, etc. There is a nearby market within a kilometer from campus where items of personal need are available. IIIT is about 15 km from the center of the city but well connected with buses and shared minitaxies (temples). Gachibowli is a fast-developing area in which several new software companies are building their campuses including Infosys, Wipro, Microsoft, and others. As a result, many new facilities are coming up in the area. However, you will be busy with academic activities and will go out relatively infrequently.
Q12: Do I have to fill or buy IIIT Hyderabad form for admission?
The admission to IIIT is through institute portals. Kindly check here for the details of filling the application form and paying the application fees.
Q13: Can I apply for multiple modes of admission to IIIT?
Yes, but: (1) You will be allowed to accept, hold and pay for a seat in only one of the modes. If you wish to change your accepted program later when offered during the admission process, you must first release your accepted seat. (2) If the modes you apply require an interview, you will be interviewed only once. For e.g. if you apply through KVPY and UGEE, you will be interviewed only for UGEE.
Q14: Is IIIT, Hyderabad participating in JEE (Main) -2019?
International Institute of Information Technology, Hyderabad is not participating in CSAB counseling (JEE (Main) -2019). IIIT, Hyderabad offers B.Tech. admissions through Institute portal using JEE(Main) 2019 Marks.
Q15: I have heard all the students in the first year will be required to purchase laptops in the first year. Should I purchase now?
No, you do not need any Laptop in your first year. You will get access to a workspace equipped with computers.
Q16: Is there a Dual Degree Program for ECE students?
Yes, there is. It has the same characteristics as the Dual Degree Program for ECE students in terms of requirements and objectives.
Q17: How is the Dual Degree Program different from the B.Tech one?
Refer to Q2
Q18: What is it in there for me in the Dual Degree Program?
A lot of fun in doing cutting-edge research in a specific stream. Opportunities to do internships in the best of places. Ability to join Research Exchange Program. Detailed information can be found here.
Q19: When does one have to choose the field of specialization for the Dual Degree Program?
At the end of the second year.
Q20: What are Trans-disciplinary dual-degree programs? Should I join them?
Institute offers trans-disciplinary programs leading to dual-degrees:
B.Tech in Computer Science and MS in 'X', where 'X' stands for one of the following:
Computational Natural Science
Computational Linguistics, or
Exact Humanities.
This will allow students to pursue new areas along with a strong computational background. Major breakthroughs in research are likely to come from such trans-disciplinary research.
Q21: I have paid online through a debit/credit card. How do I verify if the payment was successful?
Please ask your bank if the amount is deducted from your credit card/debit card account. If the amount is deducted then the payment was successful. If you do not click anywhere on the screen while the bank website is redirecting to the IIIT website after successful online payment, then you will see a confirmation message on the screen and you would also receive an email with a payment successful message. In case you have not received an email but the amount is deducted from your account, please send an email to 'ugadmissions@iiit.ac.in' with the transaction ID, Bank account no., Date/Time of transaction, Transaction amount, your name, email address, etc. details. We will try to confirm within 7 working days whether we have received the payment.
Q22:Will I receive confirmation if I send the form by post/courier?
If you have specified the correct email address in the application form for phase-I then you should receive an email confirmation about registration. We also send postal confirmation to all applicants who have filled the application phase-I form through post.
Q23: 12th marks have not been announced for my board. What should I do?
Please leave the fields blank where 12th marks details are asked in phase I form if your results are not yet announced. You can fill in these details in phase II form.
Q24: I have not received any confirmation email after completing phase I. What should I do?
Please check the SPAM folder or bulk email folder for the confirmation email. Since such emails are generated automatically they very often go to SPAM or bulk mail folders. In case you can't find the email and the amount got deducted from your debit/credit card account then please send an email to ugadmissions@iiit.ac.in with the transaction ID, Bank accounts no., Date/Time of transaction, Transaction amount, your name, email address, etc. details and we will reply to you within 7 working days.
Q25: Is there any SC/ST/BC, women, physically challenged, etc. quota for IIIT admissions?
No, there is no SC/ST/BC, women, physically challenged, etc. quota or reservation of any kind for IIIT admissions. All admissions are strictly merit-based and in the open category.
Q26: Will the IIT JEE rank be considered along with JEE(Main) rank for admission?
No, we only consider JEE(Main) Marks for regular admissions. There is however a provision for admissions based on Olympiads, NTSE or KVPY, etc. Further, for students from Arts, Social Sciences, and Humanities with Mathematics, there are opportunities to pursue Dual Degree Computational Linguistics or Exact Humanities. Please read here for more information on admissions based on these criteria.
Q27. If I have paid the application fee (or any other fee) more than once, what should I do? Is a refund applicable on the full amount?
In case you have paid the application fee (or any other fee) more than once by mistake or for any other reason (you find the amount has been debited from you more than once), please immediately send a mail to ugadmissions@iiit.ac.in. The admissions office will cross-check the same and inform you of the refund possibility.
As regards the refund amount, please note that the refund for the additional payments, if any, will be only for the fee amount that was charged by the Institute and will not include the Transaction and/or Bank charges paid as part of the online payment process. 
Q28: Is there any internal sliding possible once we join the institute?
There will be no internal sliding after you join the institute. For four-year/five-year B.Tech/Dual degree programs in CSE and ECE, a branch change is possible according to institute rules after the first year.
For other five-year dual degree programs in Computational Natural Sciences, Computational Linguistics, Exact Humanities, and Building Science & Engineering as they are special programs, no branch change is allowed. So you should opt for these programs only if you are really interested in them. Your opting for programs without a serious intent to join deprives another candidate of the seat, as there would be no more rounds.
Q29. There seem to be lot more seats vacant in dual degree programs. Why is it so?
The dual degree research program is for 5-years. Students who would like to do research would generally prefer this program. However, some students whose first preference is a 4-year program may also opt for the 5-year dual degree program and gets the seat. In further rounds, he/she may slide to 4-year based on the vacancy which will create a vacant seat in a dual degree program. 
Q30. What are opening and closing JEE (Main) Marks in the last 5 years (branch-wise)?
JEE Cut Off Marks Statement from 2015 to 2019

Programs

 

2015

2016

2017

2018

2019

CSE

Opening
 Marks/Percentile

315

304

335

345

99.958238

Closing
Marks/Percentile

250

256

268

256

99.9084225

ECE

Opening
 Marks/Percentile

247

255

261

296

99.929344

Closing
Marks/Percentile

204

231

224

210

99.7681949
Q31. What are placement details for the year 2018?
The UG graduates achieved 100% placements for several years. The average and median annual salaries for 2017-18 of ECE graduates were Rs 17 lakhs and 16 lakhs respectively. The figures for CSE graduates were Rs 23 lakhs and 24 lakhs, for ECD graduates Rs 22.5 lakhs and Rs 24 lakhs, and for CSD graduates Rs 23 lakhs and Rs 22.5 lakhs in the same period. However, the institute believes in promoting the wholesome progression of each student as true leaders in their chosen career area. The statistics on the student's first jobs do not truly reflect the institute's vision about their career.
🚩🚩 Enjoy UGEE - Plan B Offer for Limited Time 🚩🚩
🎁IIITprep is the Official Educational Partner of Annual Fest (Felicity) of IIIT Hyderabad🎁
🪖🎁 Crash Course 2023 Launched 🎁🪖
❤️Use Code: "PlanB" for Discount❤️
Limited Stock of 📚 2024 Edition will be Available soon
❤️Use Code: "PlanB" for Discount❤️
We have partnered with BlueDart Air so, you will get Fastest Delivery
It will be delivered after 4-5 Days
✔️ All Recorded Lecture with Live Discussion Sessions (Complete REAP Syllabus with SUPR Imp)
✔️ Get 8 UGEE Mock Tests (India's Most relevant Test Series designed by IIITprep Experts)
✔️ Get All Lecture Notes Available